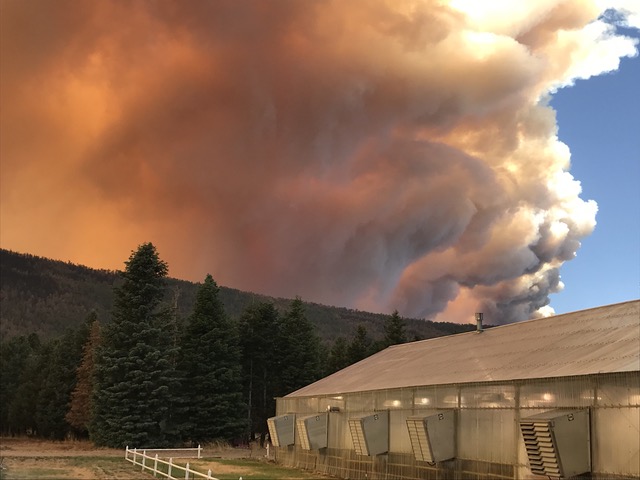 Mission Statement
To advance the understanding of restoration activities on forested areas in New Mexico through multidisciplinary research, education, and stakeholder collaborations. The Forestry Research Center also provides science-based solutions for private, tribal, state, and federal forest managers, who face the threat of catastrophic fires due to overgrown forests and the inability of post-fire forest communities and ecosystems to naturally regenerate after such fires.
Successful establishment of planted forest seedlings in the southwestern United States is often hindered by harsh site conditions related to drought and severe disturbances such as wildfire and mining operations. Additionally, future climate changes are predicted to be warmer and drier further complicating forest restoration success. It is essential to produce high quality seedlings for outplanting in these stressful environments. However, little is known on how to produce quality seedlings that will be successful in these environments.
The JTH Forestry Research Center is the only research program in the southwestern US that focuses on forest nursery technologies, tree improvement, and eco-physiology of young forest trees to facilitate ecological restoration and/or commercial reforestation. These research interests are critical for establishing future forests in the region.
We are the largest producer of forest seedlings for the state of NM with a current capacity of 300,000 per year. These trees are primarily used to restore disturbed forests after severe forest fires and mining operations within the state. Additionally, portions of these seedlings are distributed to the general public through New Mexico's State Forestry Conservation Seedling Program. Funds generated from this program cover all costs for production as well as support additional research projects.
Free Publications

Impact Report
---
Contact Us
Dr. Owen Burney, Research Director
John T. Harrington Forestry Research Center - Mora
3021 Highway 518 Mora NM 87732
Phone: 575-387-2319
Fax: 575-387-9012
Email: oburney@nmsu.edu